Swindon's 'Bond' building to host Wilkes Academy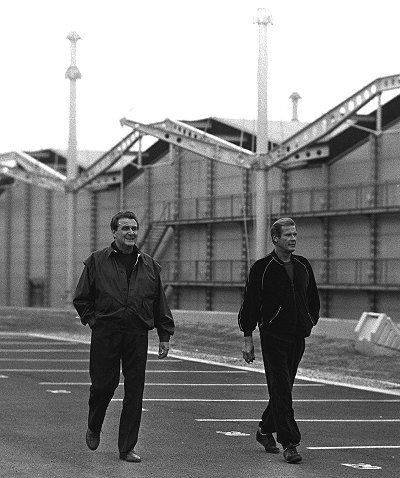 The site where Roger Moore played James Bond in the 1984 movie 'A View to a Kill' will host a new performing arts school training performers of tomorrow. Swindon College has teamed up with the nationally renowned Wilkes Academy to offer performing arts courses from September 2013.
The College launched the new partnership at an open morning on Saturday 1 December with showcase performances by Jonathan Wilkes and students from the Wilkes Academy of Performing Arts.
Pictured right, Roger Moore and Patrick McNee during the filming of A View to a Kill at the Renault building. Photo: Richard Wintle www.calyxpix.com
The partnership will offer BTEC National Diplomas in Performing Arts, Musical Theatre at levels 2 and 3 and the majority of the curriculum will be taught at The Wilkes Academy's new studios, which are currently being developed in the Spectrum (Renault) building in West Swindon.
The qualifications will be delivered over part of the week and students may also be eligible to join the Advanced Wilkes Academy of Performing Arts to further develop their performance skills. Acceptance on all the courses will be subject to audition.
Patrons of the Academy include Robbie Williams who said: "Wilkes Academy of Performing Arts is such an exciting venture. I wish I had this kind of place when I was growing up."
Jonathan Wilkes' wife, Nikki Wilkes and business partner Suzanne Mole are the principals of the Academy; both began their professional training at the highly accomplished Laine Theatre Arts College and have had successful careers in dance and choreography spanning two decades. Jonathan Wilkes will also be involved in coaching and teaching at the Academy.
Suzanne Mole said: "Having played major roles in London's West End, Jonathan is an established artist in the entertainment industry and is ready to pass on his unique experience to the next generation."
Amanda Burnside, Swindon College Executive Director Enterprise and Learner Services, said: "This is a really exciting development for the College and we are looking forward to working with the Wilkes Academy. This will strengthen our choice and portfolio of courses as well as bringing outstanding practice in Performing Arts teaching to Swindon".
All photos: Richard Wintle ©Calyx Multimedia, 41, Churchward Avenue, Rodbourne Cheney, Swindon SN2 1NJ • 01793 520131 MOB: 07836 205196 www.calyxpix.com