Swindon Link spoke to local restaurant owners about Sunday's Euros final match.
The Italy v England match kicks off this Sunday at 8pm.
Members of the public are getting ready for one of the biggest football matches England has seen since '66 but what does this Sunday's match final mean for those that have allegiance to more than one team? Swindon Link visited the owners of some local Italian restaurants.
Gianni Pau, owner of Fabio's restaurant said: "My family and friends have been calling and asking me what I'm doing for Sunday and who I am supporting. I have been telling them that after being here in England for over 30 years, my heart is going to be here as well, but of course I have to support Italy all the way."
"I do think however that it would be nice for England to get a win this time as it has been so long since they have won something like this. If they do win - it would be well deserved. Either way, I will be very happy."
When asked if he expected the England and Italy pairing, Gianni said: "I must say, I was very happy and suprised when Italy started playing so well. But I was nervous as it seems whenever we play so well at the beginning, we get too confident and melt halfway through. This time they have proved me wrong! We were also a little bit lucky too, against Spain with that penalty."
Gianni and his team will be taking a day off this Sunday. He said: "We are going to close our restaurant for the day as there will not be any point keeping it open! Our clientele have been very supportive and we have remained busy, so we can afford to take Sunday as a day off.
"We're calling it a National Bank Holiday for Fabio's restaurant!
"It would have been nice to have gotten a ticket for Wembley but looking at the prices at the moment, I don't think so! Instead, my kids are coming back home from university and we are going to spend time together. They support Italy too, so it will just be my wife segregated into another room as she supports England!"
Gianni's final words on match day were: "It's all very exciting but I do also hope everyone behaves themselves when they are out watching the game in public spaces."
Nino, the owner of Mario's had similar feelings of torn allegiance and said: "I'm excited and nervous! It's hard for me as I live and work here but Italy is my home team. I know it will be a great game and I hope the best team wins - and of course Italy are the best team! But seriously, whatever happens, I will be happy.
"We have been having fun banter with the customers and it has been really nice."
The pair's patriotism saw them guessing this final pairing from the start of the European Championship.
Lisa, chef at Mario's, added: "I did say from the start that it would be Italy and England in the final"
Mario said: "I put a bet on from the start, that Italy would go all the way to the final - and that they would win in that final."
When asked how he would be celebrating and watching the match on Sunday, Mario said: "I'm going to be having a family barbecue. The only problem is that my wife and friends and family here will be supporting England. It's looking like I am going to be the only Italy supporter there! It will be interesting to see what happens at the barbecue after the game has finished!"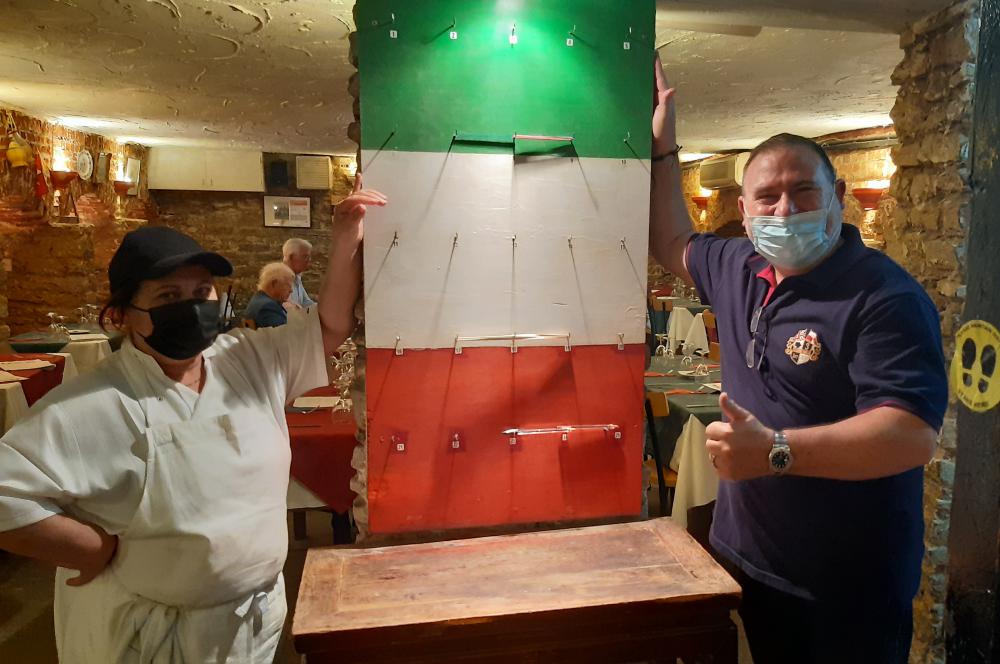 (Mario's owner, Nino, and his chef, Lisa)