The RSPCA is appealing for information after two dead snakes were found dumped in a plastic box in Swindon.
The shock discovery was made by a member of the public, who found the bodies of the boa constrictors near garages in Pinehurst Road on Thursday (January 4) before taking them to a vet and contacting the animal welfare charity.
RSPCA inspector Steph Daly, said: "We don't know how long they had been there or who dumped them and would encourage anyone with any information to come forward and let us know, in complete confidence, on 0300 123 8018.
"Veterinary opinion is that the snakes were both underweight and in poor condition so we are very concerned they suffered prior to their death."
The two snakes, who were found in the box alongside a heat mat and bowl, were both between 1.5m and 2m in length and were scanned for microchips but they did not have them.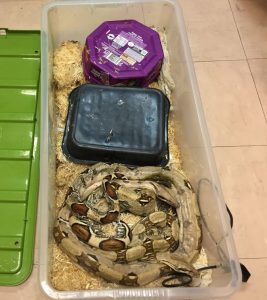 The RSPCA has voiced concerns about the huge rise in the number of calls it has received in recent years about reptiles.
Nearly 7,000 calls about reptiles were received by the RSPCA in 2016, and over the past five years there has been a 71% rise in the total number of calls about reptiles received by the animal charity from 4,020 in 2011 to 6,888 in 2016.
In 2016 1,689 reptiles were collected by the RSPCA officers, which was a 23% increase in the five years to 2016.
RSPCA inspectors were recently called to give police in Bristol a helping hand after a 10ft boa constrictor was discovered in the back of a seized vehicle. Another Boa constrictor was found being kicked around a street in Cardiff in December, and last week a dead royal python was found in the Cwmbran area of Wales with bruising to the snake's head and body.
RSPCA exotics senior scientific officer Nicola White said: "Sadly the RSPCA is experiencing widespread neglect of reptiles and we are finding that many people are unaware of how much of a commitment these animals are when they take them on, which we believe may be why we are rescuing hundreds of reptiles every year - and this number appears to be on the increase..
"The main thing we want to stress to people who are thinking about bringing an exotic pet into their family is to research the needs of the animal thoroughly and make sure that you can provide everything that animal needs for the animal's entire life.
"We have produced care sheets for a number of exotic pet species, they can be found on our website."
The RSPCA is also encouraging anyone thinking of owning an exotic pet to consider adopting one of the many unwanted snakes that are currently being cared for at the animal welfare charity's reptile rescue centre.
To help the RSPCA continue rescuing, rehabilitating and rehoming animals in desperate need of care please visit: www.rspca.org.uk/give