A new Lawn Manor Academy scheme helps students develop crucial life skills.
The Connect programme selects students who are in need of additional support with learning, and aims to teach them life and social skills for when they leave education.
Teacher Chris Fox has helped to organise a range of activities for Lawn Manor Connect students. The students were taken along to Black Cat Archery, located at Roves Farm. They were given the opportunity to learn more about the whole process of archery and how local, natural materials are used in making bows and arrows.
Chris said: "Archery is a great option as it's a fully inclusive sport. You can practise archery as part of a group or individually and you can easily measure your progress. It also teaches vital skills such as listening, following instructions and safety.
"Archery also links well to the curriculum and topics that the pupils will be studying in other lessons. For example, we've recently tied to their history lessons by looking at medieval English longbow archery and practising that style of shooting. Archery also gives them the opportunity to achieve the Duke of Edinburgh Award and the John Muir Award."
As part of the Connect scheme, Lawn Manor Academy has developed a Forest School where students can leave with a woodland management qualification, enabling them to pursue careers in land-based industries, animal husbandry, as well as green wood working. The school says these routes have proved to be successful for those who may find more academic paths a struggle.
Through the Forest School, pupils are also encouraged to develop skills that cannot be taught in the classroom - skills such as team work, communications and social relationships.
More information on Lawn Manor Academy can be found at www.lawnmanor.org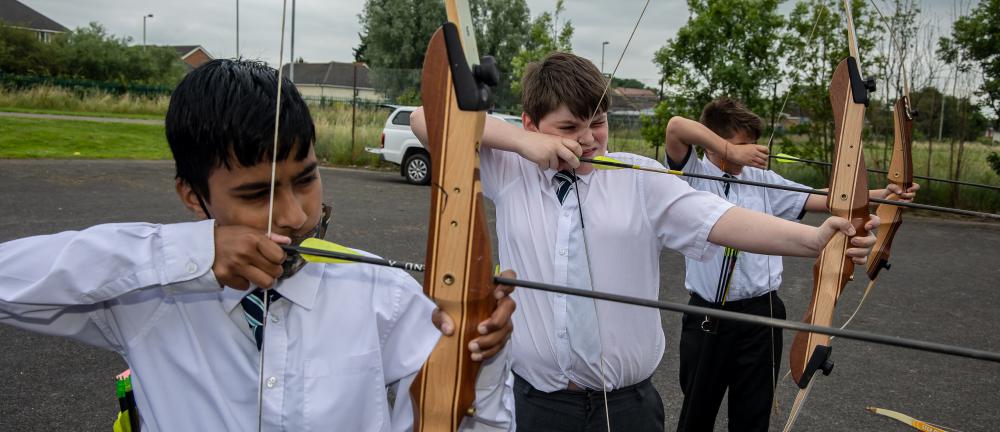 (L-R Lawn Manor students Makhluf, Mikey and Logan taking aim)