A popular Japanese artist is set to visit the UK for the first time with a workshop in Swindon.
Mrs Yuki Aoba, the founder of a unique and creative Japanese letter design style, will visit England for the first time in May to share her expertise in a series of workshops, including one in Swindon.
The workshops, which are ideal for families, will give attendees a chance to learn the unique technique of Tsutefude – a font-art style with a difference. Using a special pen-brush to create a unique alphabet, the technique can be used to convey thoughts and messages onto a postcard in a powerful and positive way.
The event in Swindon is on Sunday 13 May at Stanton House Hotel, who are very happy to welcome Yuki san from Japan. The art activities are planned for 10am to 12.30pm and 1.30 to 3.30pm. There will also be Japanese refreshments on offer.
The workshops are being set up by Helen Akiyama from Akiyama Connects, a Japanese cultural specialist and language teacher, based in Swindon.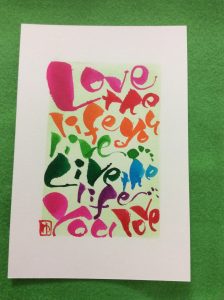 Helen said: "Yuki speaks little English, but she is very excited about this chance to spread the wonderful message of Tsutefude to people in the UK and help them understand more about Japanese culture.
"I'm running the events to help her introduce the technique and I am really looking forward to this opportunity. It is ideal for families to come along and try something new."
Yuki founded the Tsutefude Association Foundation in 2015 and trains the senior masters who teach the technique across Japan. She began the technique because she had suffered from bad handwriting as a child. When traditional Japanese calligraphy didn't help her writing style, she designed her own letters and alphabet. The postcards she created delighted the people who received them as they created intimacy and transferred the message much better than normal handwriting. Yuki decided to teach this method of design and called it Tsutefude – meaning 'message brushing'.
For more information visit www.akiyamaconnects.co.uk/tsutefude or email helen@akiyamaconnects.co.uk