Buying new car seat covers is a great and cost-effective way to spruce up your car interior. It allows you to easily cover up any wear, stains or damage to the upholstery, as well as protect it from crumbs, dust, dirt, debris and spills. Additionally, these accessories give you the opportunity to customise your vehicle with a wide range of cover designs, colours and patterns.
What kind of car seat covers are there? Which one should I choose?
Before getting into the different materials and their pros and cons, let's start with the basics. Car owners can choose between two types of seat covers: universal covers and custom, vehicle-specific covers. Universal products are designed to fit most standard vehicles and are typically easy to install and remove. The main advantage here is that they are cheaper and can be easily transferred to another vehicle if necessary. However, they aren't guaranteed to fit your car well and can sometimes look saggy or loose around the seat. Custom covers are designed to fit the exact dimensions of the seats in your specific vehicle. The design also takes into account any cup holders, levers, armrests or other special features. In general, they tend to be made from higher quality materials too, meaning that they'll protect the upholstery for longer.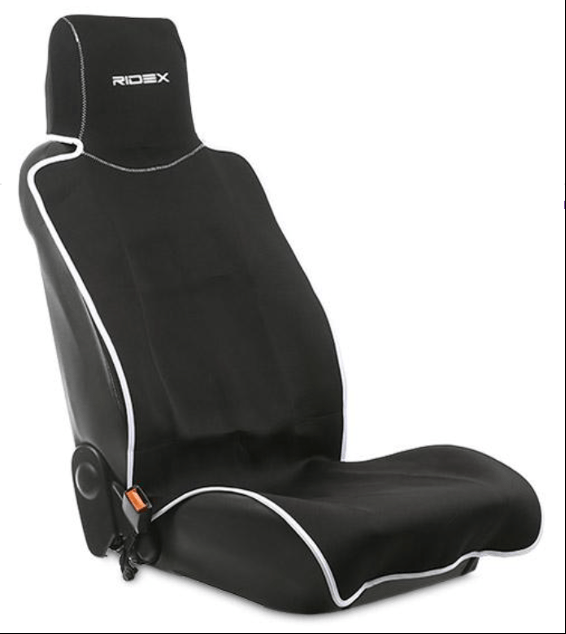 Image car seat covers taken from buycarparts.co.uk
Materials:
1. Fabric
Fabric seat protectors tend to be the cheapest option and are available in a variety of fabrics, including nylon, polyester and denim. They come in a much wider range of patterns, colours and textures than those made from other materials. The downside is that they are less durable than leather accessories and can be more susceptible to stains.
2. Leather
Leather covers give your car a more luxurious look and are highly durable. They're also relatively easy to clean and maintain as long as you use specialised cleaning products. They provide excellent comfort. However, leather products are quite expensive and can be very tricky to repair when damaged.
3. Leatherette
This is one of the most common materials used as it's durable, comfortable, and luxurious-looking like leather but with a much lower price tag. On the other hand, unlike leather, the synthetic material isn't very breathable, so it can feel very hot in the summer and icy cold in winter.
4. PVC
Polyvinyl chloride (PVC) is a popular option as it's waterproof and affordable. Like fabric covers, these accessories also come in a wide range of colours. Unfortunately, the material can harden as the temperature drops, making the covers less comfortable.
How often do they need to be replaced?
This will largely depend on the product quality and how often they're used. Although there's no urgent need to replace them, many people decide to do so after a couple of years due to fading, wear, stains or bad odours.