Are you a fun-loving resident of Swindon with a penchant for play? Even adults get the gaming itch sometimes. When that happens, you need to know all your options for a jolly good time in your hometown. The good news is, there's plenty of lively game venues available within the city limits. And if you'd rather stay on the couch, Swindon has online options for you as well.
Game Nights in for Players Who Prefer Digital
Maybe the rain is pouring down. Perhaps you just want to stay in your PJs all day, sipping hot cocoa and lounging on the couch. Either way, leaving the house isn't an option—and you still need some entertainment. Luckily, you can have some fun right on your computer or phone. You might want to get yourself comfy away from the couch too and should really look into the pros and cons of gaming chair vs office chair.
As it turns out, digital gaming is actually good for you. It boosts memory function and increases brain processing speed, giving you yet another reason to get your game on. As long as you have a good Wi-Fi connection, the world of online gaming is your oyster. You can try your hand at any number of video games, perhaps even taking it multiplayer with friends in such popular titles as League of Legends or Fortnite.
Staying on the couch also gives you the unique opportunity to break out your phone for some iGaming at the online casino of your preference. If you're going to try your hand at an online casino, spinning the reels of an exciting slot game is a perfect way to start with a bit of stress-free fun. Before you log on to play, you'll want to know how to win at Slots and discover some tips for choosing your games wisely. It's always best to come to the casino prepared, even if it's located online.
Laser Quest Tag to Get Your Heart Pumping
Want to get out of your comfort zone with your group of friends? There's no better place to do it than at Laser Quest Swindon, where you can play the most exciting game of tag you've ever experienced. There are several options and playing styles, but team tag is the best for friends.
You'll be divided into teams, then commence stalking your buddies through a maze of darkened halls, aiming and firing your laser-gun upon sighting the enemy. So make sure not to shoot your own teammates! Each time you manage to tag a friend with your laser gun, you and your team get points. Each time you take a hit, you and your team lose points.
At the end of the game, all the points are tallied up and displayed so everyone can see who the winners are. Laser Quest Swindon offers adult packages for the young at heart, including those who want to partake in food and adult-style beverages after the game.
Thrilling Go-Karting Track for Racing Fiends
Are you a speed demon? Head to the Swindon Karting Arena, your favorite town's very own go-karting racetrack. Bring along a group of friends, your significant other, or go solo for the adventure of a lifetime.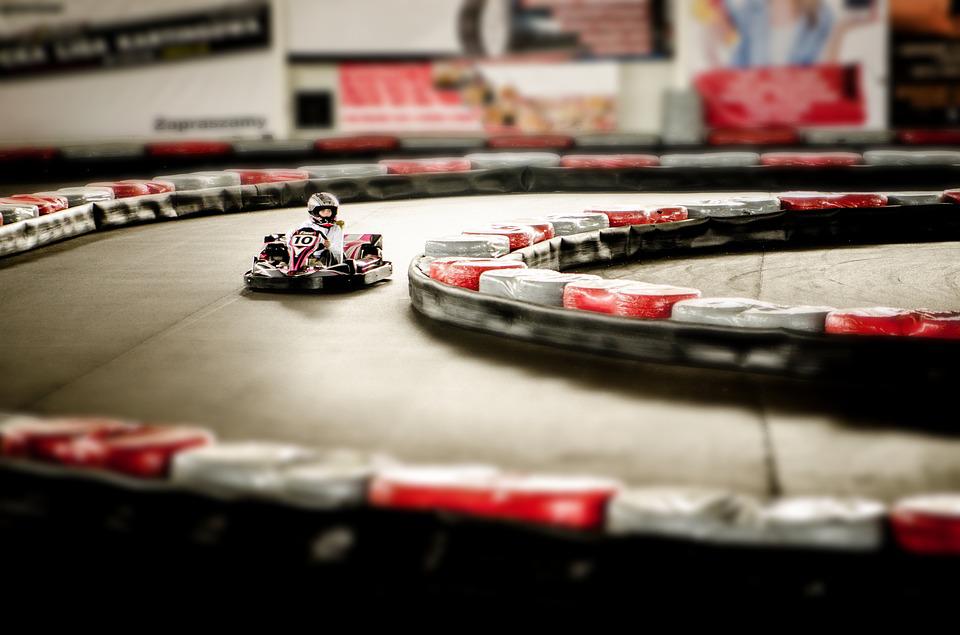 Ready to get your race on? Swindon's go-karting track is the perfect place for an afternoon adrenaline rush.
You'll find a well-maintained track with friendly staff and excellent facilities, including a restaurant area where you can grab a bite to eat when all that action inevitably makes your stomach growl. There are several races to participate in here, each one more jaw-dropping than the last.
You'll have the chance to compete in Formula races, a go-kart Grand Prix, and endurance tests which are sure to make you sweat. The best part? If you do end up winning, you'll get to take home a trophy for your troubles!
Exciting Escape Rooms to Test Your Brain
Did you know that there are nearly 1,500 escape rooms across the UK? This business is booming, and Swindon is lucky enough to have 3 of these venues within its borders. The concept of an escape room is simple, yet it can be incredibly tricky to solve.
You and your friends will enter, and then use clues located around the room to escape during an allotted period. If you make it out, you win! If you don't figure out all the clues, you'll be stuck in the escape room forever (or at least until one of the staff members lets you out).
Take your pick between the Co-Decode, City Mazes Swindon, and Incarcerated escape room venues. If that's not enough for you, Laser Quest also has an escape room on-site, and there's a Doctor Who-themed escape room down the road in Reading. Each of these venues offers something unique, where you're sure to have a massively fun time as you race around the room searching for clues, outsmarting your friends, and trying your best to work as a team.
Each of these activities can take a boring day from zero to one hundred as quick as lightning. Go ahead and gather up a group of your bravest partners-in-crime to hit Swindon's streets for a day of thrills and spills at any of these great venues, or stay at home and let the fun come to you. If you're on the lookout for a good time, what are you waiting for? Let the games begin!