Swindon's history – will that forever remain in the past? Having lived in Swindon all my life, nearly 20 years now, it saddens me – particularly as a history student - that we have little to show for our rich heritage.
It's not surprising that nearly everyone who lives in Swindon has probably visited the Steam Museum at least once, - as a town it is abundantly clear that we cherish our prestigious railway heritage - mainly thanks to Isambard Kingdom Brunel. However, many historic buildings and places in Swindon could become completely unknown to future generations as they continue to be destroyed or left to rot. To quench my own historical curiosity, I even uncovered some Swindon relics that were, until recently, unheard of to me.
The Mechanic's Institute
Although technically not a disappeared landmark, the Mechanic's Institute on Emlyn Square has been derelict for a number of years. But, this Grade II listed Jacobean style building was once a thriving social hub for Swindon's railway workers.
Created by Great Western Railway workers, it was opened in May 1855 and was home to the first lending library, a skittle alley, bar and lounge facilities and even a theatre - to name but a few. It also became a new location for the GWR Medical Fund Society first set up in 1847, where workers paid into a scheme to provide healthcare for them, including swimming baths which opened in 1891 (now the Health Hydro gym). This later provided a basis for the NHS in 1948.
In 1960 the Mechanic's Institute was merged with the British Railway Staff Association and the Institute was no longer operated by its members. Between 1961 and 1976 various elements including the library and theatre, were moved out and into new locations, and on 9 February 1986 the building was permanently closed.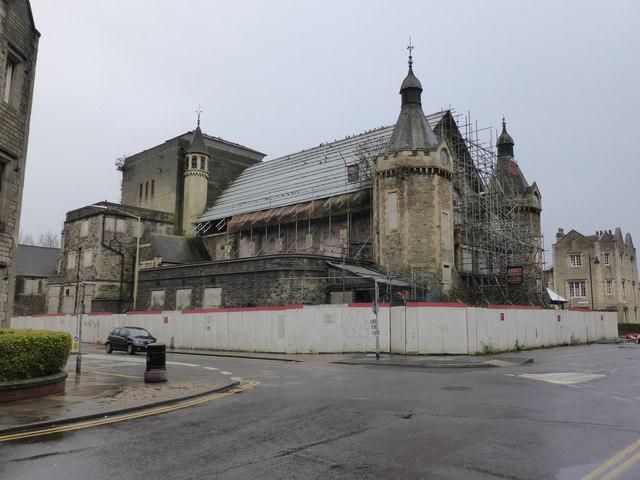 Between closure and today, the Institute has passed through several hands with ideas of turning it into a nightclub, - which was heavily objected by local residents - or a hotel which was also rejected. The current owner's ideas have been for a small hotel, as well as a café and office workspaces, but having owned the Mechanic's Institute since 2003, the only update so far has been a roof refurbishment in 2012, leading the building to remain empty and deteriorate further.
The Baptist Tabernacle
The pretty Georgian style building built from Bath stone, with six columns with a large roof and stone wall surroundings in 1886, became the Baptist Tabernacle at the top of Regent Street, and was host to the Baptists of Swindon.
What was once a popular Baptist church, subsequently began to decline in congregation numbers – this meant the costs of upkeep became much too expensive. With the roof becoming dangerous and vandals graffitiing on it, by the early 1970s, the Baptists were ready to leave and relocate. Although they still had hopes of the Tabernacle potentially being saved by the council, this failed, and in a meeting back in 1978, fears of the old building crumbling onto the street and injuring pedestrians, led Thamesdown Borough Council to make the decision to take it down.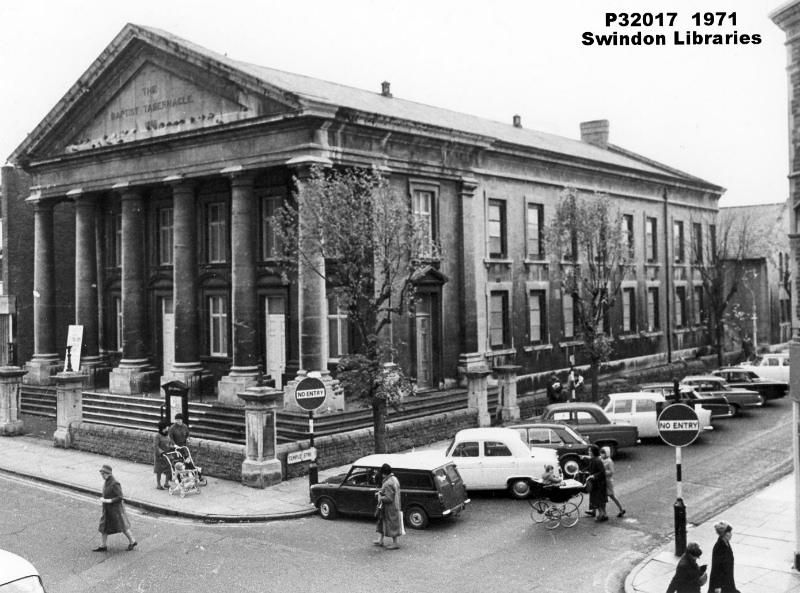 After its removal, Mr Neil Taylor bought all six columns, as well as some base blocks and door frames in hopes of creating a new country home, but after planning permission was denied they currently sit in an empty field in Northamptonshire. In 2006, Swindon Borough Council bought the remains of the Tabernacle stones for £360,000, to use in a new car park but after their partner company went bust, the stones have remained in storage in the Wroughton Science Museum. The former site is now house to the Pilgrim Centre.
The Corn Exchange (Locarno)
The Corn Exchange, known as The Locarno, in The Square, Old Town, has taken many names and roles over the years but was first opened in 1852 as the Old Town Hall. Later, in 1865, more land was provided by Swindon's historic family, The Goddard's, to extend it into the Corn Exchange market, which opened in 1866.
In 1880 the building's large hall was made into a theatre that could hold up to 1000 people. Prior to the First World War, the hall was converted into an ice rink before being turned into the 'Rink Cinema' in 1919. It was refurbished in 1949 and became the Locarno Dance Hall, later hosting wrestling events and jazz and pop concerts, with appearances from artists such as the Kinks and the Applejacks that may be remembered by parents and grandparent alike.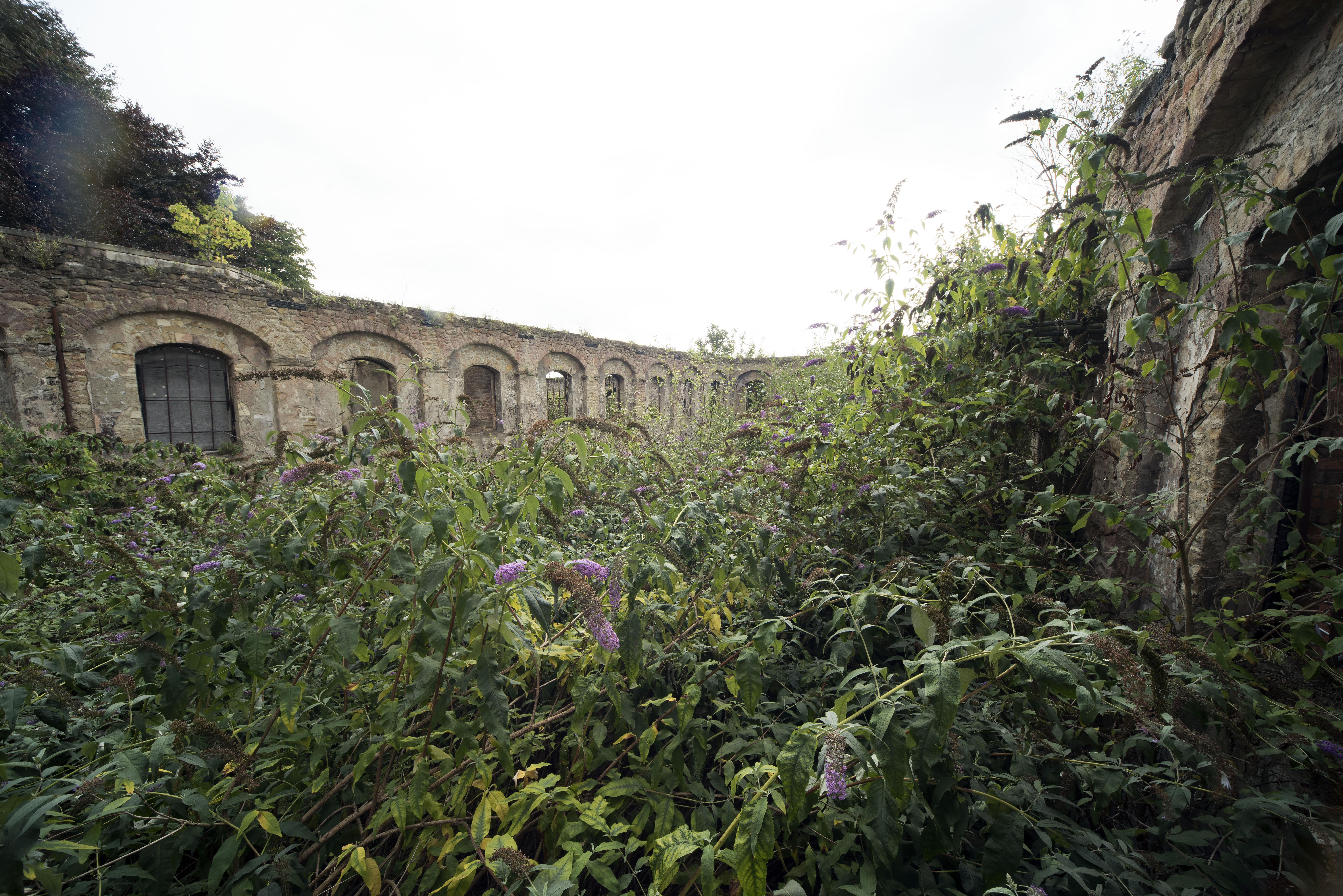 Further developments saw the building transformed into a Bingo Hall for some time. This has been greatly speculated, but the Bingo Hall's existence has been proven by some - who have explored the site in recent years - after finding the remains of the bingo games.
The Locarno now, however, is decaying badly and completely derelict having suffered two fires since the beginning of the 21st century. Plans by multiple developers to turn the site into shops, flats and offices have been rejected by the council in the past, however the current developers currently have until September this year to submit a planning application. Is there hope for the site or will it continue to lie covered in graffiti, roofless and with nature taking over, soon to become a disappeared landmark?
Ken White murals
Born in Swindon in 1943, Ken White, like many at the time, began working at the Swindon Railway Works in 1958, after leaving school aged 15. First working as a rivet hotter, then a sign-writer in the wagon shop, he then left to study at Swindon Art College for four years.
By the late 1970s, his distinctive murals began to pop up in and around Swindon, with his first 'The Golden Lion Bridge' still on the side of a house on Fleming Way today, depicting a Victorian era Swindon with the Golden Lion Bridge at the centre, that was built in the GWR works.
Whilst remaining a firm talking point for both residents and tourists to the town, many of his murals no longer exist due to re-developments, - amongst other reasons - such as a two-piece mural that used to be in the Brunel Centre featuring Diana Dors and Isambard Kingdom Brunel. Its removal came after the redevelopment of the Brunel Arcade in the mid-1990s, which saw the lower ground floor and ramp removed to be replaced with escalators. In a previous interview with Swindon Link, White said: "One councillor objected [the mural] because he thought she was a bit of tart – I can't remember who he was now" therefore, its removal is hardly surprising.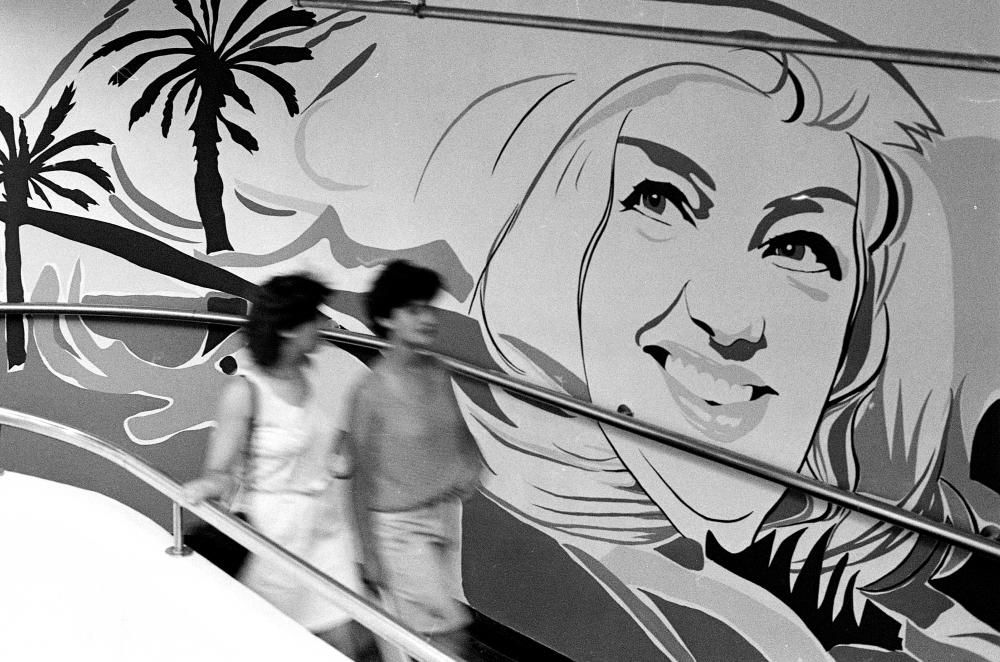 White is still an active painter, but, much like other Swindon landmarks his visual impact on the town is also deteriorating. He added: "That's the thing about this town, they keep knocking the best buildings down – even the Lacarno, that looks like it's going to go".
Although White has been refurbishing many of his murals, with the growing number of housing redevelopments in Swindon, I wouldn't be surprised if more of his wonderful murals become disappeared landmarks.
Old Town Railway Station
The Old Town Railway Station, although only existing as a railway for eighty years, became a prominent line for the people of Swindon. Opening in July 1881, it was a relatively quiet line providing journeys from Swindon to Andover - although it picked up significantly during the First and Second World War.
The station was also used by thousands in the mid-20th century during the annual Great Western Works Trip, a fortnight break travel to the seaside and other holiday destinations for Swindon workers and their families.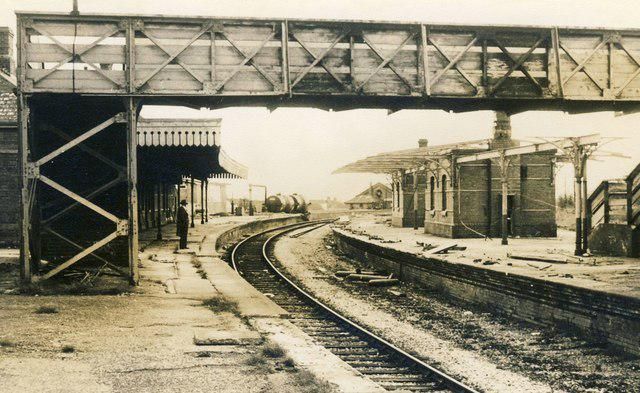 September 1961 would then see its final passenger service - although the refreshment rooms stayed open whilst goods traffic still existed until 1964. It now exists running along Signal Way Industrial Estate as a cycle path trail linking West Swindon to Old Town. Although the original landmark has disappeared as such, the work done to renovate it has been a great success and now provides a pleasant route for both keen cyclists and dog walkers alike.
So, is Swindon's heritage at threat? At the current rate it looks probable. From looking at these five sites the common theme is that many plans by developers to renovate these old sites have been struck down, either by the Council or protest groups, meaning our history is disintegrating before our very eyes.
There are however, success sites where buildings have been rejuvenated whilst still upkeeping its rich history, like the Workshed - a modern digital workspace on London Road. From the inside it seems like any other newly built office, but from the outside it still keeps its heritage of a railway workshed, proving that we can keep our historical landmarks in Swindon whilst still giving them a modern 21st century twist.
Images credited by Swindon Local Studies, Wikipedia commons, Richard Wintle