Arts workshop events will be hosted by Drove Primary School across the first two weekends of August.
The Summer Arts Festival starts Friday 6 August with a rap workshop at 10am.
All its events are free, and places can be booked at https://www.eventbrite.com/o/prime-theatre-19807617496
The festival is curated by Young People for Young People and is part of the #iwill programme that encourages young volunteers. It has received support from the Wiltshire Community Foundation, Swindon Borough Council and Arts Council England.
The workshops on offer are for ages 7+ and include Shadow puppetry, drama, film-making, a film screening, an art workshop and exhibition, theatre directing and a session on creating a Youtube or podcast series.
Young Arts Leader Riley said: "We're offering a series of free workshops in August to encourage people to have fun and continue with creative endeavours or start new ones. Skill and experience don't matter, just a willingness to learn and enjoy yourself!"
The events will either take place in person or through zoom. Their schedule can be viewed below: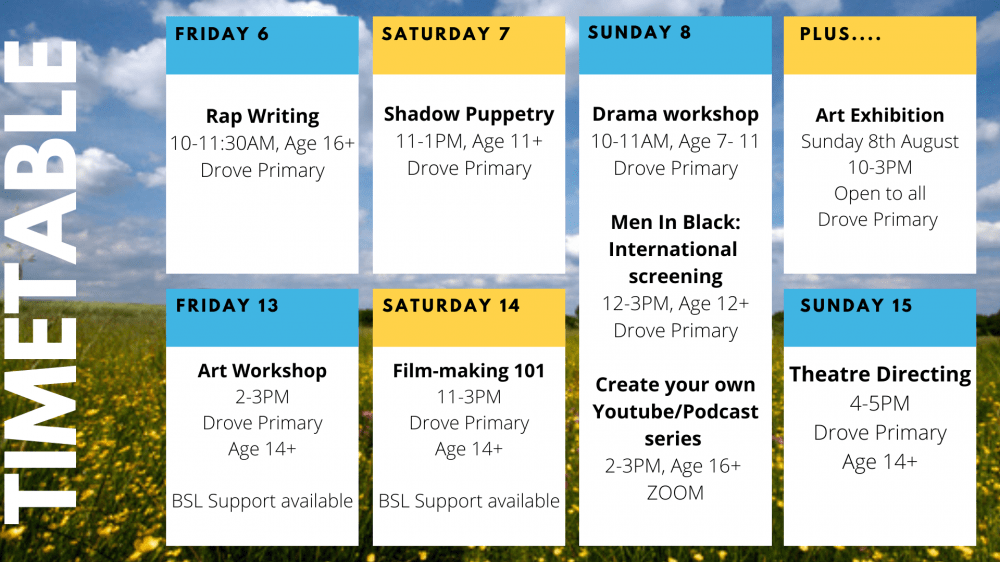 The free workshops finish on Sunday 15 August.
Online activity packs are available by post for those unable to attend. Email contact: info@primetheatre.co.uk
More information about Prime Theatre can be found at https://www.primetheatre.co.uk/youth-theatre/