Swindon Wildcats have confirmed that Ben Nethersell will be returning to the Swindon Wildcats for the next two years after signing a new multi-year extension until the end of 21/22.
Last year Ben was sponsored by Clements Building Contractors who will continue to do so for the forthcoming season.
The 22-year-old defenceman will enter his fifth and sixth consecutive seasons with the team after graduation from the Okanagan Hockey Academy in the summer of 2016. In four seasons with OHA Ben accumulated 115 points (38G + 77A) in just 72 games and captained the U18 side in 2015-16.
He was signed to the Wildcats by then Head Coach Stevie Lyle after graduating and has swiftly built himself into a crucial cog in the defensive core of the Wildcats. He now has iced over 200 games for the senior Swindon side and will continue to add to that total in 20/21.
Last season Ben had a very successful season as Head Coach Aaron Nell awarded him the Most Improved Player award at the End of Season Virtual Awards evening we held earlier on in the summer.
At international level Ben is capped at GB U18 level where he iced in 10 games over two Division 2A U18 World Championships.
Ben joins Sam Godfrey, Tyler Plews, Stevie Whitfield and Neil Liddiard on the blue-line for the new campaign.
Head Coach Aaron Nell has applauded the improvement of Ben Nethersell following the 22-year-old putting pen to paper for another two seasons on the Wildcats blue-line.
He said: "I'm really pleased to have Ben coming back for another 2 seasons. He improved massively for us last year and when it came to picking the Most Improved Player award the coaches and I agreed there was only one winner.
"He's still young and he has room in his game to continue his improvement, but he offers us something different on the back end with the ability he has to move the puck. Our five D-Men were a really solid group last season and I'm thrilled to be able to have them all signed up for at least another season.
"Ben was patient when he had to be last year but his improvement from September to March was great and his responsibility in the team grew. Hopefully he can continue this next year and become an even more important part of the team."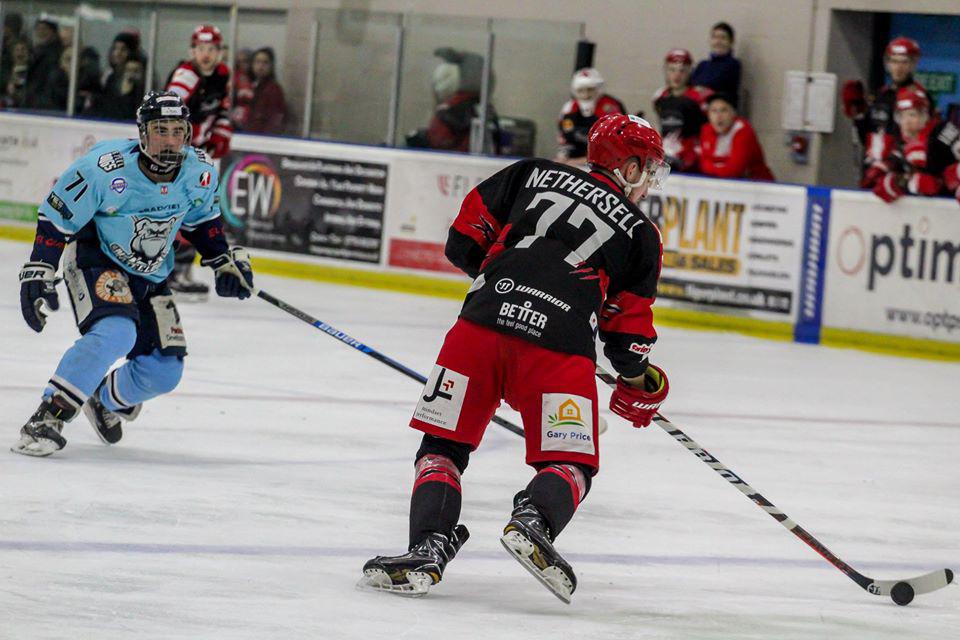 Fresh off signing the new two-year contract with the club Ben Nethersell sat down with Swindon Wildcat's press officer Ben Callaghan to discuss the new deal and to look ahead to the 20/21 season.
BC: Ben, it's obviously been a different summer for all so far, how are you preparing for the 20/21 campaign?
BN: It's been a very strange summer so far obviously. It's been good to get back to work and back into a routine again after lockdown. It's hard with no gyms or ice rinks but I've been doing what I can to be in the best place when the season does come around.
I've been running, walking and taking the dogs out but I think what's the most important is to remain mentally switched on. We will be out of this soon and it will be hockey time before we know it.
How happy are you to have signed a two-year deal with the club?
When Aaron offered me a two year deal, I was delighted. I'm very happy in Swindon, I like the way the club is ran and I love playing here. I couldn't imagine playing my hockey anywhere else at the moment.
A 2-year-deal allows me to focus on my hockey, it shows Aaron believes in me and over the last few years he's given me more responsibility on the ice and hopefully that continues going forward.
Looking back on 19/20, it was personally a successful year winning the Most Improved Player award, but how do you think you performed last year?
I really thought I had a good year. In 18/19 I got quite ill and it was a tough year on the ice for me but I think I bounced back well last year.
I feel like I took the opportunities I got and that's how I'll continue going forward, the more opportunities I get on the ice the more I want to capitalise on them and I think there's a lot of work to come over the next two years but I'm sure I'll come out good on the other side.
You've signed up and the rest of the D core is back again, how good will it be icing alongside the D core in Swindon again?
Being part of the D core here is great. We've got a lot of experience and we've got younger guys too, we're a tight bunch and get on really well. I think we've adapted to be able to play with each other too so whichever pairings get drawn up we're all comfortable, which is a good option for Aaron.
I feel last year we were very strong and it'll be good to play alongside guys like Godders, Lidds, Whits and Plewsey again. We've all had a longer break than usual but I'm sure we'll all carry on from where we left of last year. Especially with Marrsy behind us too, I just can't wait to get started again.
If you are interested in sponsoring any of the 20/21 Swindon Wildcats, please email office@swindonwildcats.com for further information.